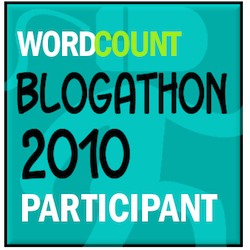 Today, on the 10th day of WordCount's May 2010 Blogathon, if they want to do this, the one hundred (plus) participants in the event are scheduled to write about the same or similar thing: 5 or 10 blogs we can't live without, the 5 or 10 blogs we really like, or, in my case--to follow my theme--the 10 blogs that INSPIRE me. Here's my list, not in any particular order. What's yours?
1) For interesting author interviews:
Writers Inner Journey
2) For the humorous lesson/reading of the day:
Blog Salad
3) For practical how-to's and interesting discussion about the business of freelancing:
WordCount
4) To learn about books I'd likely miss related to travel, if I didn't stop in here:
A Traveler's Library
5) To support my writing buddies on the travel blog we write together:
Travel & Adventure in Arizona
6) For good advice about relationships (it's for girlfriends, but the wisdom can go beyond that):
The Friendship Blog
7) For spiritual guidance from a new friend:
Heart Choices
8) Because I like the ride the Phoenix light rail and this guy writes funny posts related to it, and I think humor is something to seek out:
Light Rail Blogger
9) For all the tech news a writer can use to maintain a blog:
Sree's blog for journalists
10) Yours! If you hang out here long enough and post comments, I'll visit your blog regularly and do the same. I call it the
play
-it-forward movement, and it works well in the blogosphere, and I like to play like that.
Curious to see what the other participants are writing about if they chose this topic? Visit
WordCount
and click on the links. Or stay here, and click on the participants' list on the right-hand side of the page, underneath the green Blogathon badge.
I hope to see you return again and again. After all, it's the readers like you who inspire me to consider: what can I offer today that might benefit you? If you have any ideas, let me know.